Hey,
Here is my new creation - Garmin "Universal Widget":
and Universal Widget Light: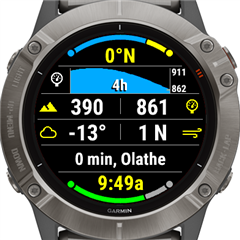 This is a new approach to widgets, unlike anything else I saw before. I consider it an extension of the watch face screen. Whatever data you are missing on the watch face, you can put here and access it at one touch. There are some unique metrics too, not available on the watch face (widget is an app, so it can do more).
Some of the app's features highlights:
Weather: both, from Open Weather and Garmin Weather.
Heart rate, pressure, and altitude graphs.
All metrics (around 40 to choose from) are customizable.
2 sets of long fields values (switched by pressing SELECT button).
Full colors customization - make it your own !
The Pro version of the app has a limitited list of supported watch models - unfortunatelly it is related to the limited memory available to widgets on watches not supporting Music
.
However, the free Light version supports most watches. Due to a limited available memory (60K for widgets on a lot of watches), the Light widget has a limited number of features in it - see app description for a list of differences between Universal Widget and Universal Widget Light.
Please leave a review if you like the app.
Thanks!