This is a part of my today's MTB course, pre-planned in connect. I was passing this point multiple times, arriving from either the the 9 or the 7 o'clock uphills and then following one of the downhills in the 11, 2 or 3 o'clock direction.
In some situations the turn cues worked quite well but in some others (as shown here) not at all.
In the situation on the screenshot I arrived the turning point via 7 o´clock. Seeing what I saw below, how would anyone know which direction to take next?
My conclusion was like, hm, no turn cue, so it's probably straight (the 2 o'clock direction). So I went down until I got the off-course warning and had to push a nice 35% climb back up again.
By try and error I figured then that the 3 c´clock direction was the right one (as I got no off-course warning this time).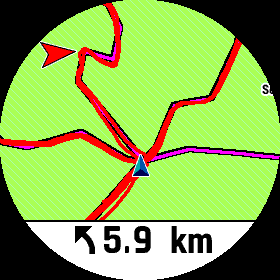 I really wonder why Garmin does not improve this, it would be so easy. And better, they already have a way to draw directions a lot more clearly.
If you do any map based routing, e.g. to a POI, one gets the nice little white arrow showing you exactly where to go next.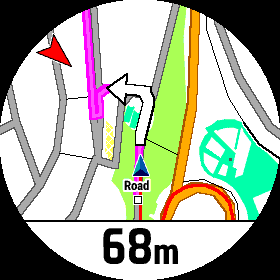 Why is this not also used for following courses? It make situations as my today's one so much smoother!