The idea of this Clear & powerful watchface is to be clear as possible with ability to present the data either when they are needed or when it's most relevant time to show them.
So there are two main views of this watchface:
Simple view - presenting minimum required information
Detailed view - presenting much more information
Usually (by default) detailed view is activated for while by wrist gesture.
On simple view you can experience appearing some relevant information when something is happening e.g. you have new notification, lost phone connection, battery is almost empty or sunrise/sunset time is coming soon.
Additionally in detailed view, for first few seconds, some alternatives data are presented e.g week/day of year, day duration, distance walked.
All possible measures & data are described below: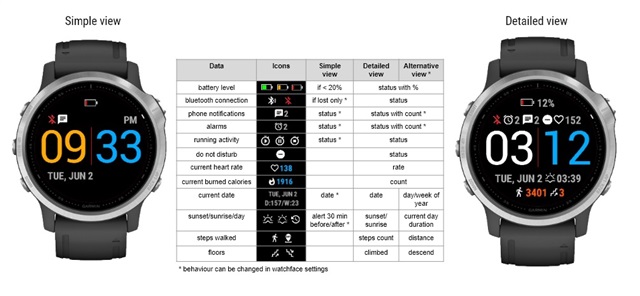 You can customize this watchface in Connect IQ settings by changing colors, it's bahviour, etc...
Give it a try and give a feedback below.
Download from IQ Store: Clear & powerful
-- km19