Hi all,
before I contact the Garmin Support, I wanted tpost it here. Maybe, others have the same issues. Actually, I have had the same issue before in May 2020. The Garmin support was great and has sent a replacement watch. This surprised me, as I thought it is more of a software issue.
Now, on the 7th of January, the same issue happened again - but with a different watch, of course. All of the sudden, the battery drained dramatically: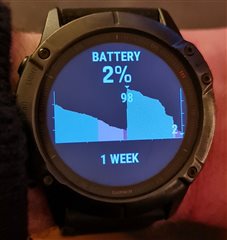 On the left side of the graph, you can see the normal drainage of the battery. I use the watch each for 2 to 3 activities, have a the PulsOX turned on only at night, do Pulse during the day, and do 500 to 1000 intensity minutes per week running, kayaking, cycling, rowing...
Usually, I have to charge the battery once a week, which is fine to me considering the heavy usage of the watch. Then, on the 7th the powe started to drain for no reason at all - no activity, no syncing and no WLAN turned on. Just sitting on my wrist and me on my desk. After that, the problem just persisted as can be seen by the screenshots below. I did a factory reset yesterday night, but that has had no effect. After charging it to 100% this morning, I am now at 84% three hours later.
The software version is 13.10. But it seems to be unrelated to that. I did not drop the watch.

I hope somebody has an idea what to do.... I really enjoy my watch but now it has become unpredictable...
Best,
SB