Hi mates,
here is my new version of the Garmin Tactix D native watchface,
with much more optimization. options
Can be found here: SHN TxD II-E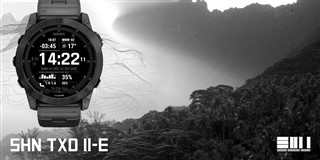 Complete user guide, pictures, settings example can be found Here
If you like it, please consider a review/rate, that will help me a lot and encourage me to improve it
** COMPATIBILITY **
Please check your API level here: https://developer.garmin.com/connect-iq/compatible-devices/
ALTITUDE-PRESSURE-TEMPERATURE: not available for API inf2.4.0, and available for devices with sensors.
WEATHER from OpenWeatherMap: not available for API inf2.4.0 and for the Instinct Crossover due to memory limitation.
WEATHER from Garmin: available from API 3.2.0, some devices like F5+ can't have it
Body Battery-Stress-Respiration-Time to recovery: available from API 3.3.0
Instinct Crossover: Please see the user guide, due to memory limitation some functions are not available
** SUNEVENTS (POSITION) **
A position is needed to calculate it.
for compatible devices, GPS from mobile is used to calculate it,
but overridden by the GPS from your device if you use it so that it can be calculated without mobile if needed.
To get a GPS signal from your device: open an activity (without CIQ data filed) and wait for green GPS signal, then go back to the watchface.
!!!!!!!! Sunset/Sunrise are not the same thing as Dusk/Dawn !!!!! if you found an offset turn off "Dusk/Dawn" option.
Tips: if you put Sun Event on Ring data, put Current Time on Arrow Data to see where you are on the timelapse.
** WEATHER - CITY NAME **
- Only available from CIQ 2.4.0 devices
- For compatible device (from CIQ 3.2.0) Garmin weather can be used, to use Garmin weather, just let the API key field empty.
- For others or if you prefer weather from OpenWeatherMap, please get an API here: https://openweathermap.org/price
subscribe for a free account, you will get the API key, put it in the settings.
After the API creation, it may take up to 2 hours to be activated.
- In order to have both of them work, your device needs to know your position, for CIQ3.2.0+, the position from your mobile is used,
For infCIQ3.2.0, you need to get a GPS signal (and every time you move far), see SunEvent section.
For both of them:
-Make sure PRO code is right entered.
-Make sure Garmin Connect App (Android/IOS) runs on the background.
-Make sure Garmin Connect app has all permissions (background/Location etc).
Permissions can be cleared in case of IOS/Garmin connect updates.
-Make sure GPS is turned "on" on your phone and your phone has access to the internet.
See SUNEVENT (POSITION) section.
-Make sure your device is well connected with your phone.
FONT SIZE: please see the user guide, there is a note about this.
FAQ: the arrow, symbol around the ring is the arrow data and it stands what you set it for (see the settings)
----
Known issue (which means I work on it)
- crash if a blank space or wrong color are put on custom progress bar color
- Move bar which does not display the right color
- crash on some device with move bar