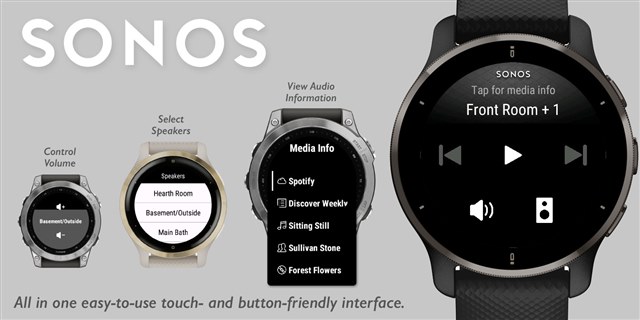 Get the Sonos Control widget/app on Connect IQ Store
The easiest and most capable Sonos control app for your Garmin watch! Designed to be as intuitive as the built-in music controls, with a great touchscreen experience, but also works with button wearables. If you have one of the latest devices that have both (Fenix 7 or Epix 2), you can use either!

No complicated setup, just follow the prompts to sign into your Sonos account using the Garmin Connect mobile app to be able to:
Switch between all your speakers and groups
Play/Pause/Skip Back/Skip Forward
View the details of whatever audio is playing
See and control the volume (using tap/swipe/buttons)
Supports glances or widget views, or can be launched as an app (which leaves the the app open, instead of the widget returning to the watch face after a timeout)
MAIN CONTROLS:
Play/Pause/Skip: tap the button or use your up/down watch buttons to choose and start/select to select the button.
View media info: tap the top 1/3rd of the screen (the speaker group name), or hold down your menu button; select any row for full information
Change Volume: tap/select the Volume button, then tap top/bottom of screen, swipe up/down, or use the up/down watch buttons
Select Speaker: tap/select the Speaker button (lower right), then use the menu to select the desired speaker
This is an unofficial app, not affiliated with Sonos. If you have any questions, problems, or suggestions, please use the "Contact Developer" link to let me know.