I had the weirdest issues today during my track run.
This is after installing 14.13 and creating a new Workout using the latest Android version (ref the compatibility issue of Workouts).
I must clarify that all my track run's with selected interval workouts (very equal to this) have been working on all prior firmwares.
So there are 3 issues in this report - all found in one activity
1) Track run with selected workout: "Rest until lap button" step is buggy on the watch during my exercise
2) Total distance is 10k too much, and causes my speed averages to be of world class
3) Sync to Strava is very buggy, and seems to have much worse/crazy lap data than the Garmin app
https://connect.garmin.com/modern/activity/10465236174
The Workout itself is very simple (https://connect.garmin.com/modern/workout/615233965)
---
Warm up
12x
Run 1000m
Rest until lap btn press
Cool down
---
After running 1000m this will (normally) trigger to "Rest section" and reset "lap-time"-field to 00:00.
It did today trigger to "Rest" as expected, but the "lap-time"-field on my 955 was restarted at random values like 02:48, 01:30 (I cannot remember all, but I then had to use this random start value as baseline and add 1 minute Rest time myself).
Usually it will (and should) start Rest lap time at 00:00 and I will press lap btn after my 1 minute rest and run on.
IIRC there were 2 times it actually started my Rest segment at 00:00 as expected.
This strange behavior also affected the total distance covered. It should be 15.6km, but ended at 25.6km (perfect 10k too much). Speculation here: as mentioned 10 out of the 12 x 1km repeats behaved buggy on pause segment, could these 10 add these extra 10km?
Anyway, Strava now think I'm the king of running, but after selecting "Correct distance" from the Strava menu, it magically corrected it to 15.6km distance (as was the correct distance). Luckily this removed my new Strava world records. The GPS segments are wrong, and laps are not correct (like 30sec/km stuff).
https://www.strava.com/activities/8522863946
All instantaneous data on the Garmin web seems to be correct like pace and heart rate (over time). The lap overview on my Garmin phone app is also correct, 1km @3:58ish. But the rest of Garmin web/app stats seems to be wrong.
Correct lap data in Android app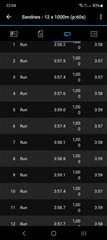 A little too fast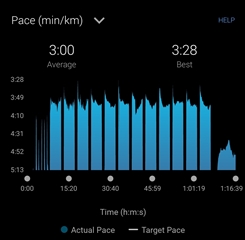 I really hope this can be fixed, it's very stressful to do a workout and struggling with tech at the same time.
1.Yes
2.Yes
3.Norway
++
Update 14.02.23
Same thing happened again today, but this time I tried to use Structured repeats via the training Intervals menu.
The first lap failed in the same as my original post (added 1km to total distance and rest segment started at lap-time 6:53 instead of 0). So I stopped the workout and restarted as Open repeats.
This forced me to manually click the lap-button as "lap reset" on every 1000m, that did work as expected - it also seems ok in Strava, but the average speed is way off due to missing rest segments, so there is something fishy going on. Total time in Garmin is 1:03:01 (correct) and Strava shows total time 53:53.
https://connect.garmin.com/modern/activity/10511550408 (failed with Structured repeats, I have manually deducted 1km from total here!)
https://connect.garmin.com/modern/activity/10511961768 (Open repeats, with a strange Strava transfer)
https://www.strava.com/activities/8561957907 (the Strava transfer missing time from rests, giving me a overall average speed of 4:13 instead of 4:57)
I have not tried to use Time as lap-trigger yet, but we can conclude that Track-run using "Distance" as lap-trigger fails miserably, and transfer to Strava seems to fail either way in track run intervals.
---
Note from moderator: 4089130, the only reason your post keeps getting flagged is because of the links. All posts with 3 or more links get automatically flagged as potential spam and need to be approved by a moderator. Please try to be civil in your communication with moderators. Thank you.