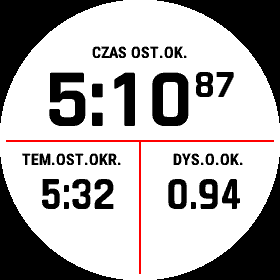 The pace and distance is tragic.
As you can see in the picture, this is a 1km lap on HRM PRO, the distance and pace "out there". I did autocalibrations for 2.5h. Once in the woods and twice outside the city on the road where there are no buildings.
Today I ran a measured distance of 1 km. The running pace is very bad. The distance also. Even the GPS on the Fenix 6 x shappire shows 0.99 km on this route
For all who believe DC Maker. This guy advertises Garmin products, his tests are unrealistic as when he "advertises" weight.
Sorry Garmin but you did it wrong.
What next? Now I have to run a month and every now and then on a known distance switch to the belt to check if the calibration is ok? After all, it's totally pointless.
It is sold a new feature that does not work properly.
Several people wrote me that they expect too accurate measurement. If someone thinks that running at a pace of 5:30 vs. 5:10 is too high an expectation then he has no idea about running, because at 10 km it is an equation of about 5 minutes.
For the moment, it is better to run on GPS or footpod because the new option in HRM PRO does not work as advertised.
Fix the way of calibration or autocalibration.
5:10 is real time 1 km
5:32 is pace
0.94 is distance