I've been running with my Garmin 645m and HRM-Run for about 5 months with no issues. This week, I had no heart rate data for a couple of minutes during two of my runs. In both instances, the advanced run dynamics continued to record for a little while. Then, the advanced run dynamics cut out and heart rate started to report again. Has anyone had this experience?
I run with the HRM-Run, Stryd footpod, and AfterShokz headphones all connected to the watch. I do not run with my phone. This is the way I've been running for months and have not had any issues before this week.
I've included a screen shot of the charts and a Word version of the fit file from the second run that had this problem. The issue happened around minute 54 (Ignore the earlier HR dip...that was a quick pit-stop where I paused the watch) If anyone wants to see the data from the first incident, I can post that too. Thanks in advance for any advice/help.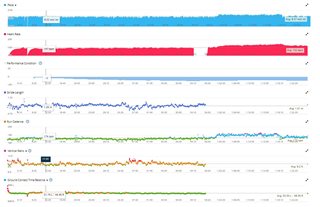 fit_file.docx