I proudly announce the release of Hydration PRO as a Complication publisher!
https://apps.garmin.com/en-US/apps/c5d8063b-a8a2-4b09-9d38-a1b2639ec1f9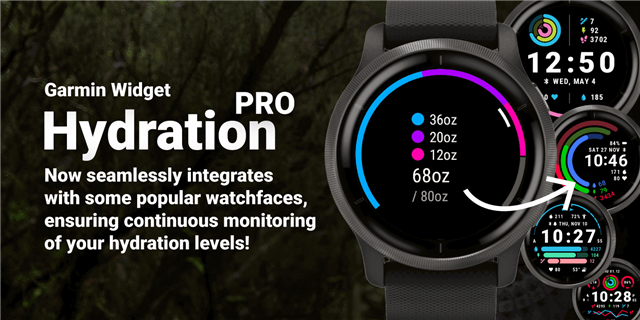 In response to numerous user requests for hydration tracking in my watch faces, and due to Garmin's lack of data sharing on this matter, I have developed a dedicated Hydration app to address this need. This app is already integrated with some of my watch faces and shares data seamlessly.
I invite other developers interested in incorporating this feature to reach out, and I will gladly assist with the integration process, which should be relatively simple.
The following watch faces currently support this hydration tracking widget:
Goals: apps.garmin.com/.../0a933f67-c349-4efa-ad46-29384852649e
Goals II: apps.garmin.com/.../5ee39b66-bb60-4f39-9dcc-5fa96fa5f407
Goals III: apps.garmin.com/.../4c720f00-c602-4289-9291-b451568df55a
Goals IV: apps.garmin.com/.../fe51ac80-0445-4284-bf6c-553aa5cdc2d7
Goals V: apps.garmin.com/.../6d011c6e-a74d-45bc-8cee-a199a990b41c
Quatro: apps.garmin.com/en-US/apps/a24870e3-b1ea-40a4-aea9-655cdf1d3ee2
Butterflies: apps.garmin.com/.../5dd60e57-3a82-4645-844b-5ae8bf0ad9c7
Bouquet III: apps.garmin.com/.../c35b74af-edbf-4f8c-a32d-f79218fc2102
Equality: apps.garmin.com/.../4d08f37e-b49c-40fe-b5f9-f06aa3178f26
Focus: apps.garmin.com/.../f7ba05ca-0d79-4c0d-be12-d61c1232f220
Forecast: https://apps.garmin.com/en-US/apps/bffaf050-164b-403a-badf-8cdc977b0fd0
Cinqo: https://apps.garmin.com/en-US/apps/31266a19-41a5-40b6-9d40-5d851d525997