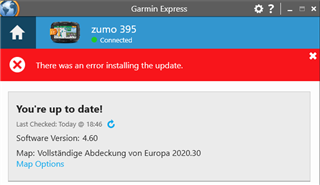 Garmin Express V6.21.0.0 is installed on Windows 10 PC. In Garmin Express the device zumo 395LM was added, software and map successfully updated on the device. So far all is good, the device is up to date.
But I cannot install the same map version (used "Install on computer" in Garmin Express) to Windows 10 PC for use of the map with Garmin basecamp.
I am aware that I can plan routes with the Zumo device connected to PC, but would like to do it without the device connected.
Any suggestion what could be done to have the map installed on PC ? Thanks in advance