Hello all
I have recently purchased a Tacx Neo 2 SE smart trainer
Along with my trainer, I have also purchased the same cassette I am using with my bike, Shimano 105 CS-R7000 11-30
According to instructions, I do not need any spacers. However after trying very hard and failing to prevent wobbling (and yes, I have applied sufficient level of force), I went to a bike shop and they have installed the cassette by removing one of the rings from the cassette & by including a spacer (Spacer belongs to bike shop, spacers that came with Tacx Neo 2 are very small in diameter and they dont fit on the freehub)
However, after some time I realized the cassette started wobbling. So I thought the cassette should have an issue and I might have messed it up while applying force with the torque wrench. So I purchased a new cassette and tried installing again, however it is the same issue, cassette is wobbling.
In summary, how do i install this cassette: www.bike-discount.de/.../shimano-105-cs-r7000-11-speed-cassette
to this trainer: www.bike-discount.de/.../tacx-t2850-neo-2-smart-trainer
And again, I have not received any spacer that would
fit on the T2875 freehub that comes with the trainer itself.
I highly appreciate your support. I probably worried more about the wobbling than enjoying the trainer in the last 2 months. Right now I am just so frustrated with so little instruction on user manual and I do not trust any bike shops in Berlin which can accurately install this cassette (by not doing stupid stuff like removing one of the rings from an 11 ring cassette)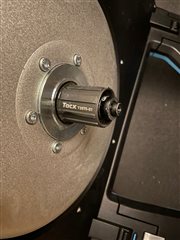 i