After using the Explore 2 for a couple of longer rides and weekly commuting over 3 weeks, here is my experience.

Overall the unit has worked well, no issues navigating and battery drain seems very good, certainly miles better than the aging 810 it replaced!

I had a couple of issue on todays club run; somehow I ended up stuck on the home screen mid-ride, turn prompts popped up but I couldn't get back to the data screens until I paused the ride at the café. After the café I lost all 3 sensors (HR, speed and cadence).

The unit does seem to talk to Connect a lot! The 810 only showed a data moving between the unit and my phone when uploading a ride or downloading a course. The data transfer icon shoes a lot more times than that on the Explore 2.

The most disappointing aspect is the clipping of numbers displayed in the data fields (shown below in the distance field), that has got to be on of the most easy things to test for when developing the unit!! It'd be nice if the typeface of the data would scale to the same height for fields of the same width (see Temperature vs Time of Day).

Overall I've very pleased with the unit.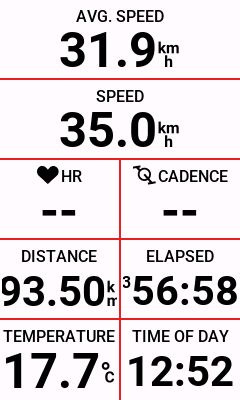 Cheers,
Jamie