In the last days I noticed many situations, when during navigation it looks like I am about 50m off the planned course. But later, when I check the course and the recorded data, I see I was almost perfectly where I supposed to be. It seems to me like some bug in displaying the situation during navigation. Did anybody encounter this?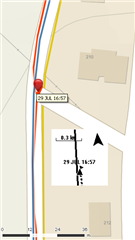 Here are examples - when I am in flat terrain and the GPS signal should be optimal, and I see difference on display, I save location and screenshot. Later I check the place on map.
The blue line is planned course, the red line real data. See the scale on the bottom.