Hi,
I have been struggling for quite a while on syncing Training Status and Training load between supported Garmin devices. I have an Edge 530 for cycling and a Fenix 6P for all the other activities. I constantly found different training load and training status between the devices, which totally doesn't make sense if you are going to use these metrics to guide your training. It was really annoying for me until recently when I found this is actually not hard to solve. I'll post my solution below and hope you'll find it useful.
Conclusion first: (two steps)
1. The "Physio TrueUp" has to be enabled both on Garmin devices and Garmin Connect Mobile (GCM) App
2. Sync both devices in GCM before you record activity on any one of the devices. (I'm not 100% sure on this but this is recommended according to other posts)
To enable Physio TrueUp on a device in the GCM, Go to Devices - click a device - General (at the bottom) - Physio TrueUp - On
This means if you have two devices, you are going to enable it four times totally (2 in the GCM app, 2 on the devices)
---------------------------------
Here's the full story.
After browsing some posts I found syncing both devices before an activity seemed to work for some of us. On Sunday I went out for a 30 mi ride and I did sync both Fenix6P and Edge530 before the activity. As I said I used the Edge530 for cycling. After I finished the ride and synced both devices again I found my cycling training load did appear on my Fenix6P. The training load was 345.
I recorded the Anaerobic/High aerobic/Low aerobic load before and after on both devices. The total difference of anaerobic/high aerobic before and after the activity perfectly match the load of 345 on both devices.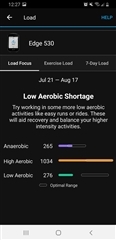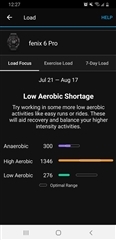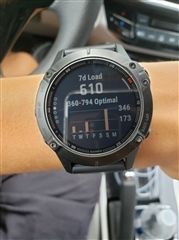 However, the training load/ training status was still different across the devices. My Fexix says "Unproductive" and Edge says "productive". I think maybe that's because my running VO2max dropped on Fenix and Cycling Vo2max increased on Edge.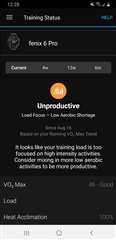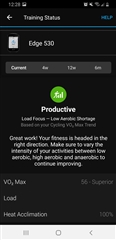 Yesterday I recorded a short walk again. It was categorized as low aerobic. After doing exactly the same thing, sync the device before and after the activity, I didn't find this low aerobic workout on my Edge device. Also, the low aerobic load number increased to 279 on Fenix but still 257 on Edge.
Then I realized the PhysioTrup up has to be enabled through GCM as well. I didn't do that on my Edge 530, which I thought was enabled by default. I did that in GCM and synced my both devices. This time the training load and training status were exactly the same across the devices. My walk was also included on Edge as well, as the low aerobic load has increased to 279. 7d Load was synced to 632 on both devices.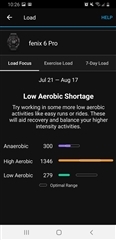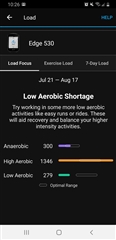 On the device, the 4w load and 7d load, as well as the load for each activity, are the same too. Both devices show activity that was recorded using the other device (Sunday rude and Monday walk).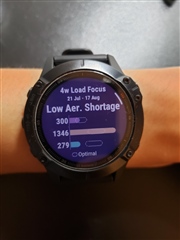 I hope this post helps someone like me who has been stuck on getting Garmin devices to work together to calculate correct training loads. I'm generally happy with what I have achieved on the devices. I have no issue now on syncing the training status and the training load across my devices. Personally I would prefer using a cycling computer for my rides and Edge 530 is still a good choice as long as I can sync these metrics on all my devices.
Thanks for reading & Happy training everyone!