Dear reader,
Recently, while recording a ride, I got the message on my Garmin Edge 1000 "Memory if full''. Therefore I connected the Garmin to my PC to and encrypted it with Windows Bitlocker (required for my laptop to access external drives). I found out that I already had a Memory Card installed (SanDisk 32GB, file system: FAT32) and performed the map update version 2020.10 in Garmin Express. Even though successfully installing the new map update on the SD card (4 times already), after a while I keep getting the same Map update available on Garmin Express.
After a successful map update, I turn the Garmin back on again and I still get the same message "Memory is full", even after setting the data recording in the setting to External memory. Also deleting all activities, courses, training and locations files on the Garmin and the SD did not work for this message (I did not delete any Maps or other crucial files). Please note the two attached images of the files that are currently under "garmin" on the Garmin Edge and the SD card.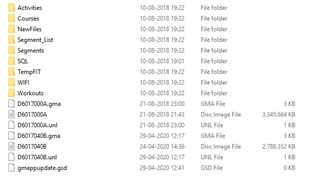 So, I did two kind of resets. First the hard reset through holding the lap and start button while simultaneously holding the power button for approximately 10 seconds. Afterwards, I installed the maps again, however no result.
Secondly, I performed a factory reset through the Garmin settings itself. However, even after installing the maps again, no result.
Even though having 1,66 GB free on the Garmin and 23,8 free on the SD card I till get the message "Memory is full" while trying to start recording an activity.
Can you please help me solve this error message?
Best regards,
Erik