Here is an issue has been bothering for me for the last 3 years. Fenix has a really cool feature called Strava Live Segments, but it basically doesn't work for me, at least it doesn't work in cases where it would be really valuable. If you not familiar with Strava Live segments, you can star a number of segments on Strava, then those segments get synced to Garmin watch, then during a run or ride a segment pops up on the watch as you approach it. You can see it on the map and track the live progress through the segment and race with your own previous PR on that segment or with the segment overall record. That sounds great in theory!
I really like longer segments when trail running. Those require a good effort and can be considered in virtual race. Here is one one segment that I targeted in my today's run: https://www.strava.com/segments/1980977
The problem is - about half mile into the segment the watch had stopped tracking the segment declaring that I was off segment while I was right on the trail. Last year I tried tracking the same segment with Fenix 6X and the result was the same, although 6X managed to track this segment for about 5 miles before dropping off it. Two weeks ago I was tracking another long mountainous segment with my 7X and it similarly dropped from it. I can bring a lot of other examples. In general when it comes to a longer segment, the failure rate is nearly 100%. Every single time when the watch drops off a segment claiming that I am off segment, that is not true and I am in fact right on top of the segment.
I've noticed a pattern that it is extremely likely to drop off a segment in a very sharp turn like a switchback. Clearly there is something wrong in the algorithm that makes it error prone in a sharp switchback. The same applies to following a course. I've noticed that similarly the watch is likely to go off course in a sharp turn, although later it gets back on course. For segments, unfortunately, that isn't same. Once live segment tracking is stopped it is gone.
Back to today's run, here is where my Fenix 7X stopped tracking today's segment - the exact point is shown with the black dot.
Here is a Strava screenshot of the segment map, showing the same place:

Yes, the segment quality isn't great. But Strava itself has zero issues matching this segment reliably every single time. Segments are created from activities and unfortunately many devices are not super accurate. But I think the issue has less to do with the segment quality and more to do with the 180 degree turn.
Here is a zoomed out view of this part of the segment - as you can see the watch had live tracked this segment until that sharp turn. Furthermore, as I mentioned Fenix 6X managed to live track this segment much further, so the segment quality is unlikely to be an issue.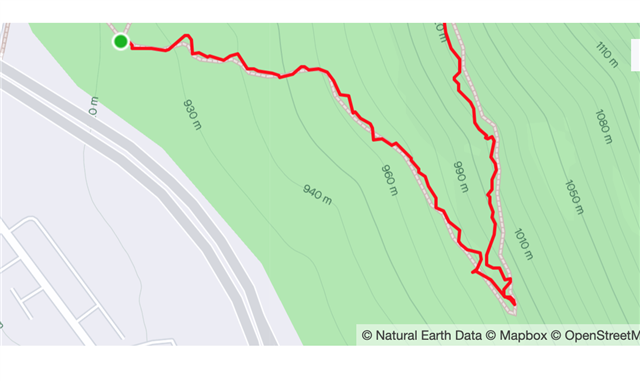 Here is my theory based on a number of observations. First, the segment FIT file downloaded to the device seems to have tracking based on a fewer points that a bit further apart, perhaps every few seconds. I think that the segment tracking algorithm tracks the distance remaining to each next segment point. As long as the distance within the certain radius and is decreasing then everything is considered to be OK. Once the distance to the next point starts to increase, the tracking algorithm declares to be off segment or off course. However, in a sharp corner it is possible for the next tracking point to end up over the corner, which might be a little behind compared to the direction of movement, so the distance to it may start increasing. Ironically, since Fenix 7 is so much more accurate, its tolerance to bad segments that cut corners, like in the case above, is even worse than with Fenix 6.
Garmin should consider increasing the tolerance and avoid being so eager to stop segment tracking or going off course so quickly. As I mentioned above, there are a lot of really great segments and we can't control what quality of data they were originally created with, especially when we talk about the mountainous terrain or deep woods. And there is no way for us to fix the original segments. Garmin has to deal with that more reliably.