So I recently picked up a vivosmart 4 and have been using it for about a week. Despite feeling very good during the day, it continuously shows my body battery numbers much lower than I would expect.
Below is my sleep from last night. Body Battery was at an 8 when I went to sleep and stayed at that level until about 12:30am. Despite having low stress levels throughout the night, my body battery only charged up to a peak of 32.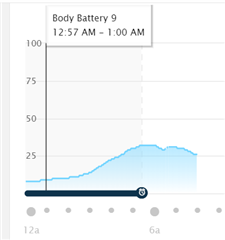 Another interesting comparison below is from yesterday, while sitting in my office working, it went up from 9 (Noon) to 31 (5:00PM).
So sitting at my desk working for 5 hours raised my body battery basically the same amount as almost 7 hours of low-stress sleep last night. Any insights on these numbers?