HI
I did read a lot of discussion here:
elevation-consistently-inaccurate-reading-too-low
problem-with-barometric-altimeter
Looks that I am not alone who has problems with elevation. Problem which happen in my case is ONLY during activity. I also think that there are several different problems.
#1
I did check pressure and elevation graph in watch during the day (holding ABC and scroll), values were OK. I did compare pressure with my weatherstation and very close national weatherstation. I did stay at home during all day so altitude was same but elevation in watch change a little (+-5m).
I did start mtb ride at 5:30pm and for 1h ride I did make cca 17km. I did make several small up and down hills. Before I did stop activity I did see that elevation is not correct because I did start and stop almost at same place.
Here are graphs just after I came home:
you can see that elevation at the end is higher. I did start at 228m and stop at 264m.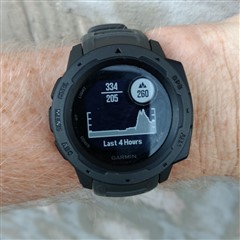 pressure graph, I was SHOCKED, how pressure can change so much, cca from 1016 to 1022. I did find out that it happen during descent.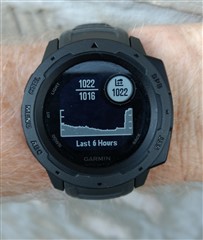 I did check my local weather station:

I also check national weather station, and there is also nothing strange. I did put marks to be able compare with watch 6 hours graph. I think, there is something wrong with sensor or with firmware of Instinct.
I did export activity to GPX and then enable elevation correction in web and export that too. Here is comparison

Blue is original GPX with elevation based on barometer. Green is GPX which has elevation correction enabled.
The significant change start at cca 0.55h = 33min of ride during normal descent.
In other threads someone mentioned sweat can make some problem. And there is also thread where rain is mentioned. Do you think that this can be problem in my case? It is 4 hours after I finish my activity now. Watch still showing wrong values of pressure and elevation. If it is problem of sweat or water then how long it takes to dry? or is it going to correct itself?
#2
What I also know is that instinct is slow in elevation reading.
I can see that in fast descent. Another day I went slower on downhill and also slow down before next uphill. Results was quite OK. Of course, barometric altimeter will not catch all small hills.
Settings:
- altimeter auto cal = off
- barometer watch mode = auto , Tell the true, I don't understand this settings clearly.
thanks for any comments