I have battery drain on my new Fenix 6X Saphire which I have had for a couple of weeks.
Within last 18 hours the battery percentage is down 23 % even though the watch was in power save mode for 7 of these hours with just about everything turned off as I do not wear the watch at night anyway.
This is the built in watch face that I currently use: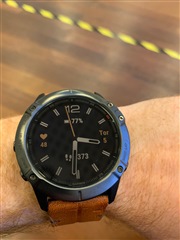 .
Garmin - Let me know what you need of info from me like logs and stuff.
I am thinking of downgrading to previous firmware version but I would like to help fixing this to help solve this in the next firmware version.