Official Support for TidalFace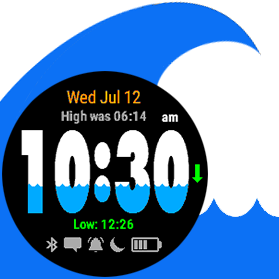 Introduction:
TidalFace uses a scheduling mechanism to access internet services. A scheduled request can only execute as frequently as 5 minutes apart. This is a restriction imposed by Garmin to conserve battery power.
TidalFace employs the following scheduling mechanism:
If no GPS coordinates available (initial launch after install): No update scheduled as you first have to acquire GPS or configure it.
If no valid tide data found in internal store: Update within 5 minutes
Saved tide data has expired: Update within 5 minutes
Successful request: Next scheduled update after 24 hours (1440 mins)
Failed update: Retry update after 5 minutes
Certain error conditions will result in no update to be scheduled, like when "No location found" for your coordinates.
A single update request receives tide data for the past 7 hours (previous tide) as well as the next 24 hours.
This means that TidalFace will operate while being disconnected from your phone (up to 24 hours before it will stop displaying the next tide).
Once your device connects to your phone again, it will automatically retrieve fresh data at the next scheduled update interval.
Fair Usage Policy
Privacy Policy
Troubleshooting Guide