END-OF-LIFE NOTICE:
Due to changes in my private life (since October 2019), I have stopped all updates and correspondence for all of my Garmin CIQ apps.
I did however renew the Worldtides subscriptions continuously in order for the TidalFace and TidalFlow apps to continue working.
Unfortunately, since the start of the pandemic, crowdfunding through donations have dried up and therefor I am not able to continue renewing the subscriptions.
I will however continue renewing the Worldtides subscription for as long as enough funds are raised through crowdfunding (paypal donations), but I am completely stopping all support and correspondence with immediate effect. There will be no further replies to support emails or app reviews.
It's been an unforgettable journey and I thank all my supporters, especially those that have donated over the past few years to make it possible to offer this service.

Official Support and Feedback thread for TidalFlow (widget)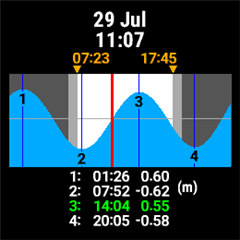 IMPORTANT - iOS users:

A bug introduced in version 4.22 of the iOS Connect app prevents app settings from being applied.
Garmin has released a hotfix for the iOS Connect app version 4.22.2.
Please update your Connect app through the iOS app store.
More can be read about the bug here

and the hotfix here