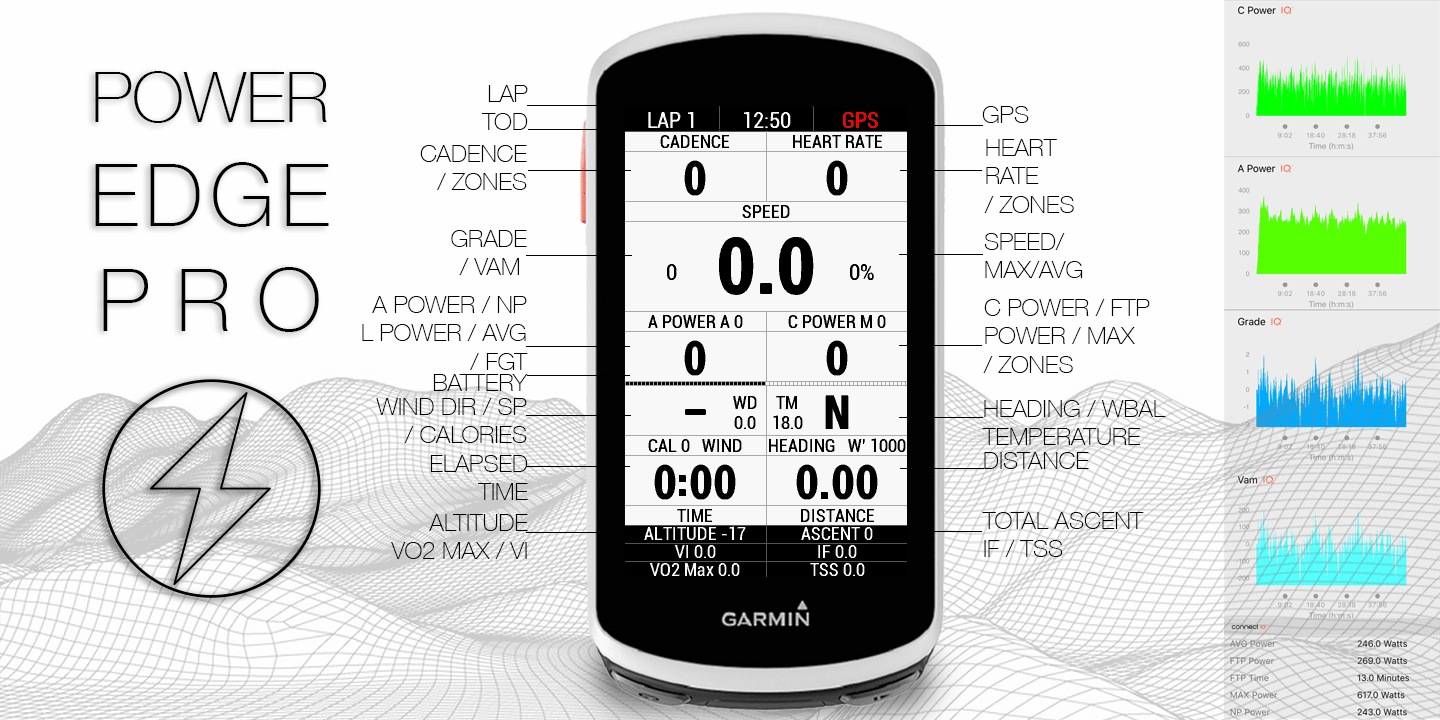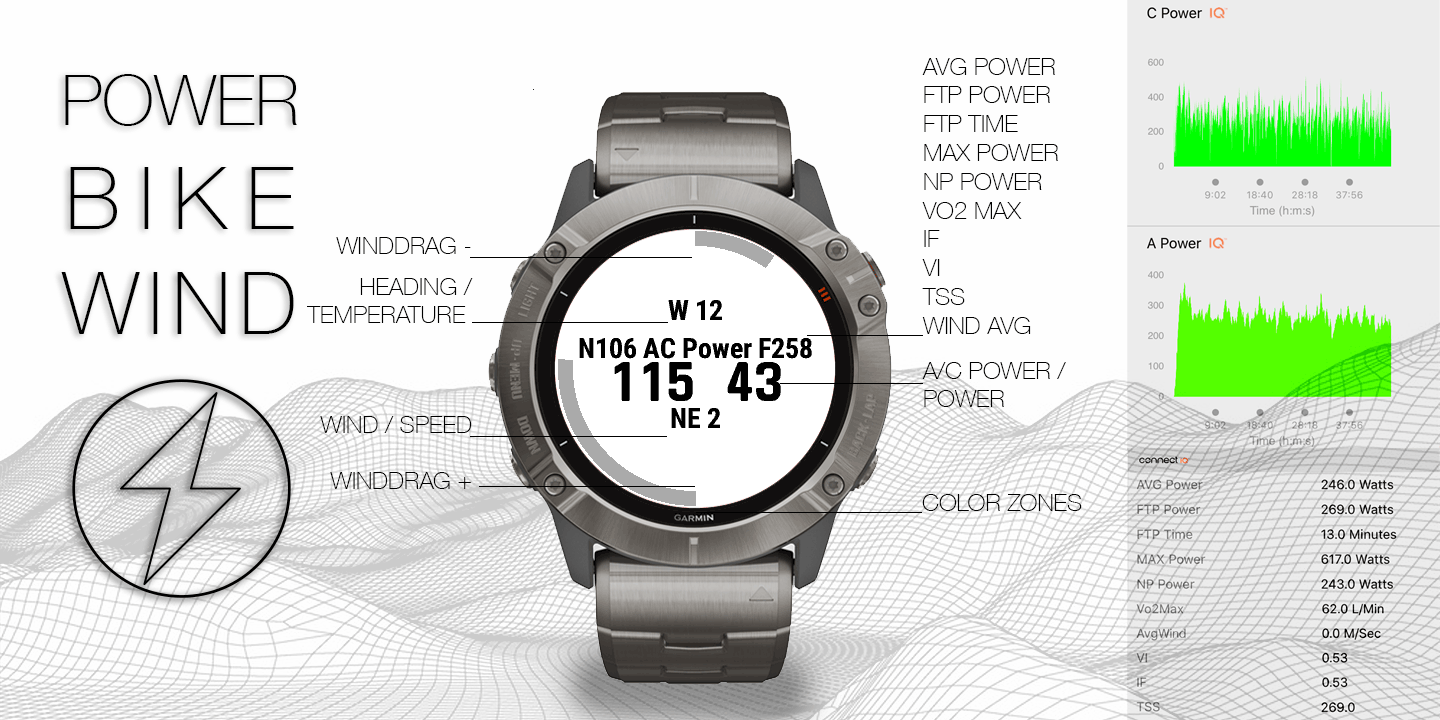 POWER BIKE PRO and POWER RUN PRO 
is a Data Field for 2.4 IQ Devices with for climbing and time trial specialists, performance and racing, this is a Single Field Layout Datafield calculated power when PowerMeter is not present with algorithm similar to Strava tested with Garmin Vector and compatible with Training Peaks and Golden Cheetah.
Estimated Power Calculations with GPS wind speed and air density with the altimetry and temperature sensor, in tests with a Garmin Vector, we have a margin of error of 10% without drafting, and uses these variables to calculate the coefficient of resistance and transmission.
This app is FREE and if you like this software you can give $2 USD on an amazon gift cart to the developer for improving the app to [email protected] or https://paypal.me/xuxumatu Thanks for support, for more apps visit: apps.garmin.com/.../apps
POWER CALCULATIONS REQUIRE SPEED AND CADENCE SENSOR ON BIKE AND DATA RECORDING ON 1 SECOND, and verification of speed sensor is using for recording speed and not GPS by spinning the wheel when the bike is stopped and its recommended to use Galileo GPS and manual calibration altimeter on segments you most commonly use support.garmin.com/.../
This data field is designed to work as 2 data fields for memory optimization with this configurations:

[ PowerBikeField + PowerBikeLt ] for EDGE 520, 820, 520Plus, 530, 830
[ PowerBikeField2 + PowerBikeLt2 ] for EDGE 520, 820, 520Plus, 530, 830
[ PowerBikeField3 + PowerBikeField4 ] for EDGE 1000, 1030, 1030Plus for 2 Bike configuration
[ PowerBikeField + PowerBikeField2 ] for EDGE 520, 820, 520Plus, 530, 830 for 2 Bike configuration
FIELDS:
TIME OF THE DAY
LAPS
GPS
BATTERY
TIMER
DISTANCE
HEART RATE
CADENCE
SPEED/MAX/AVG + (Metric or Statue)
VAM Vertical Speed On DataField and and Graphic GC
GRADE On DataField and and Graphic GC
POWER (With Power Meter or Algorithm)
A POWER C 30 SEC AVG + Power Zones On DataField and and Graphic GC
C POWER + Power Zones On DataField and Graphic GC
AVG C POWER On GC
FTP C POWER On GC
FTP C MINUTES On GC
MAX C POWER On GC
NP C POWER en GC
VO2 MAX (EDGE)
ALTIMETER (1030 / EDGE FIELD + LITE)
TOTAL ASCENT (1030 / EDGE FIELD + LITE)
CALORIES (1030 / EDGE FIELD + LITE)
COMPASS (1030 / EDGE FIELD + LITE)
VI VARIABILITY INDEX beta
IF INTENSITY FACTOR beta
TSS TRAINNING STRESS SCORE beta
Temperature Beta
Wind Beta
SERIAL NUMBER FEATURES (INCLUDED WITH PRELOADED SERIAL)
HEART RATE (Your Profiles Zones)
CADENCE (0,143,153,163,173,183)
ACCELERATION +/- AVG AND VAM Zones 40O,800,1200
POWER 1.50 1.20, 1.05, 0.90, 0.75, 0.55, 0.25
W´BAL 90, 80, 70, 60, 50
SETTINGS:
Zones Rendering Mode
No Color Zones Lite Mode
Standard Color Zones Standard Mode
Dynamic Color Zones Pro Mode
Position and Bike Setup
Trainer Setup
Climber/Aero Setup for light and aero bikes 8-10kg
Endurance/Training Setup for endurance or training bikes 10-12kg
Gravel Setup for endurance or training bikes 12-14kg
MTB Setup for endurance or training bikes 14-16kg
CP Critical Power should be 1.1 to 1.5 of your FTP
W´ Anaerobic Work Capacity 1000 Kj for a 2 HR event to 3000 Kj for a 6 HR event
Blue Zone Optimal for 2HR/1000 Kj
Green Zone Optimal for 1HR/1000 Kj
Yellow Zone Optimal for 30HR/MIN 1000 Kj
Air Drag
0.00 / 0.00 FOR TRAINER
0.30 / 0.40 FOR TT POSITION
0.40 / 0.50 FOR DROPS POSITION
0.50 / 0.55 FOR HOODS POSITION
0.60 / 0.65 FOR BARS POSTION
0.70 / 0.755 FOR MTB POSITION
Frontal Aera
0.0033 TIME TRAL TIRES
0.0045 TOP RANGE ROAD TIRES
0.0065 MEDIUM RANGE ROAD TIRES
0.0085 LOW RANGE ROAD TIRES
0.0095 CYCLOCROSS TIRES AND MTB

Transmission

1.008 FOR SRAM RED CERAMIC
1.015 DURACE
1.018 SHIMANO ULTEGRA / 105
1.025 FOR SHIMANO TIAGRA / SORA
1.030 CAMPAGNOLO ALL GAMAS
1.040 MTB 2X DRIVETRAINS
1.050 MTB 1X DRIVETRAINS
INSTALL
Download Field on Mobile device or PC
Garmin
Menu
Settings
Activity Profiles
Select Profile
Data Screens
Add New
Layout
SINGLE FIELD.
Select 1
ConnectIQ Fields
PowerEdgeField
Long Press.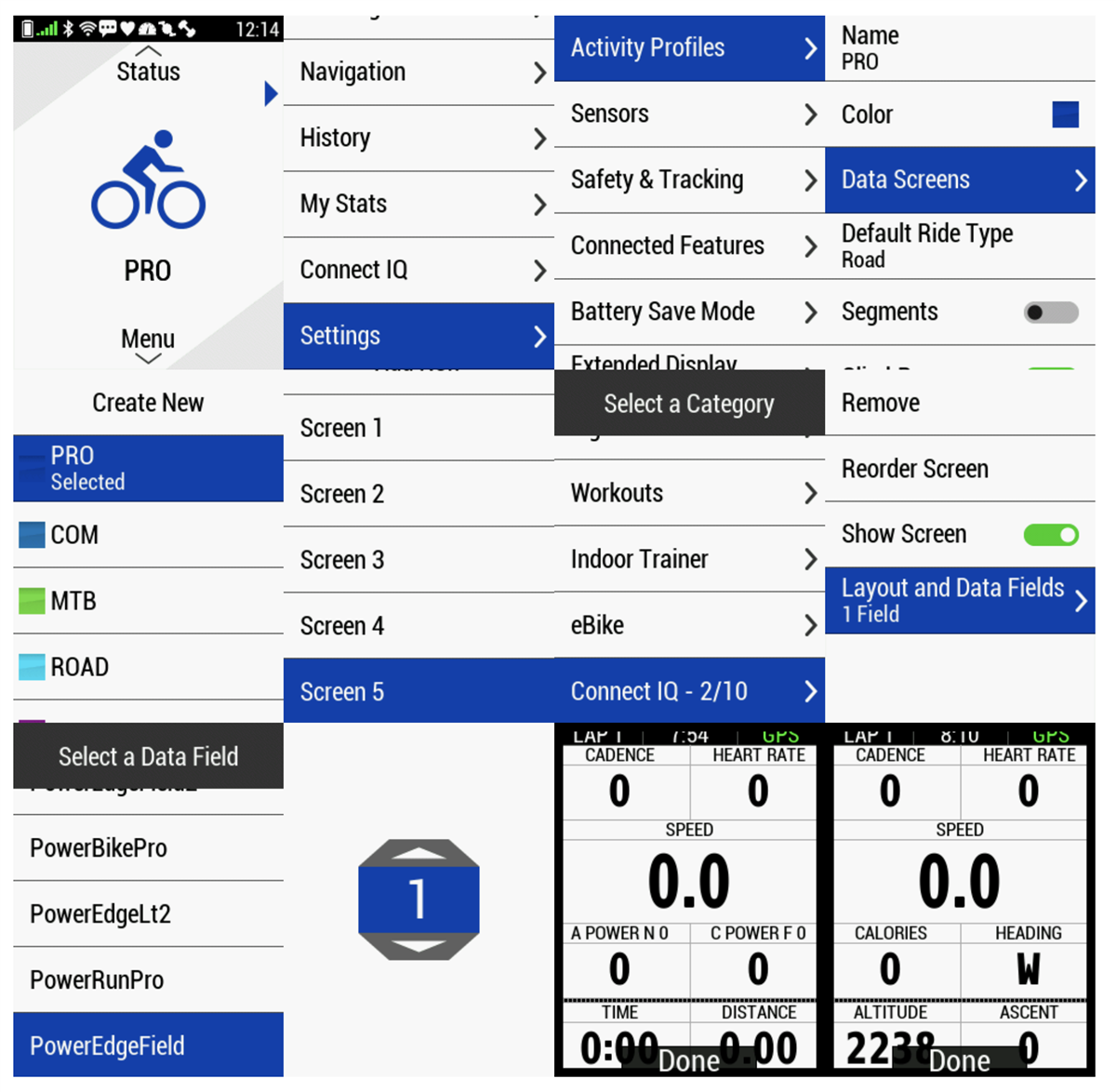 REFERENCES:
NP, VI, IF, TSS, VO2MAX Algorithms medium.com/.../formulas-from-training-and-racing-with-a-power-meter-2a295c661b46
C Power calculated power www.kreuzotter.de/.../espeed.htm
aPower Seconds science4performance.com/.../
Temperature www.engineeringtoolbox.com/air-temperature-pressure-density-d_771.html
Air Drag www.gribble.org/.../power_v_speed.html
Frontal Area flocycling.com/.../flo-cycling-studying-tires-part-7-solving-for-cda-1
Rolling Resistance www.bicyclerollingresistance.com/road-bike-reviews
Power Transmission www.ceramicspeed.com/.../
FTP help.trainingpeaks.com/.../204071934-How-to-Calculate-Threshold-Power-Heart-Rate-or-Pac
VAM sportsscientists.com/.../
W'bal markliversedge.blogspot.com/.../wbal-its-implementation-and-optimisation.html
For extended info and and questions visit forums.garmin.com/.../powerbikefield-iq-app
Thanks a lot for using PFP, receive a cordial greeting from the entire team of: Power Bike Field.
and thanks to helpers and testers All For Cycling, Enrico Botaccin, Brian Brown (DozenCycle), Sebastian Kraft
Thierry Mattey, Skreftc, Travis form Connect IQ Forums. Omar Godzilon, Dulce Pliego, Giussepina Grassi, Peper Martinez, Gabriela Vera, Eligio Cervantes.
Stay on Target, For installing, configuration, settings and updates:
For configuration settings